Facebook Marketing Services in Malaysia
Overview
There are more than a billion users connected on Facebook. As one of the biggest social media network, Facebook is the efficient platform to enhance your business and get connected with billion users. Facebook Marketing can help you increase your business revenue by engaging you with potential customers through targeted adverts. Expose your brand to a larger online audience and maximize the conversion of customers by Facebook Marketing. It is also budget-friendly which helps you to reduce your marketing expenses. With our proven expertise and methodology, we will help you bring your company ever closer to your customers.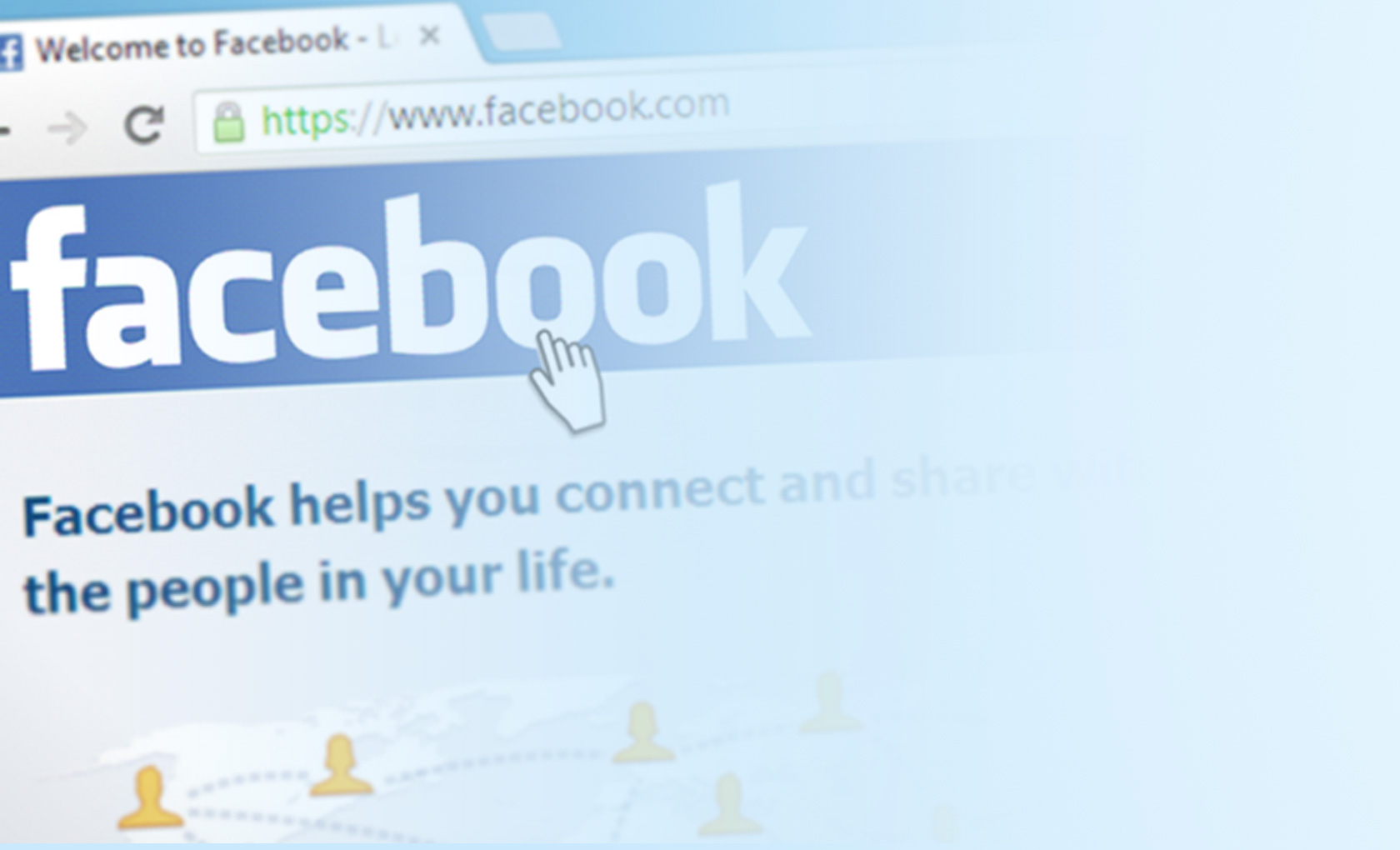 Why Facebook Marketing
Increased exposure to potential customers

With billions of active users on Facebook, getting exposure and recognition can never be easier. Reach out to your potential market by conducting campaigns and events on Facebook. This can also widen your fan base and create sales leads eventually and effectively.

Lowered marketing expenses

Marketing activities that would cost thousands through other media can now be used on Facebook for a fraction of the cost. It is ideal for small and medium businesses with limited budget, and for big businesses to commit to bigger campaigns, at the same time, reduce marketing costs significantly.

Build brand loyalty

By constantly providing valuable and exciting content, your followers will stay loyal and more likely to do business with you than a company without Facebook presence. Consistency of posting valuable and interesting content automatically shall keep the interest in the users self to keep being updated on things going on in your Facebook page.

Steer traffic to your website

By including a link to your website via Facebook, your website traffic will be tremendously increased. Your visitors will be more receptive of your business, get motivated and driven to click the website link.

Targeted advertising

Your business page can deliver targeted advertising by leveraging Facebook's powerful data analysis to ensure your advertising cost reaches your potential customers. As Facebook is a natural platform that is very good at identifying people's interest.

Raise brand awareness and promote positive word-of-mouth

By encouraging your existing and potential customers to 'Like' your page, they will receive your occasional updates and associate your brand to their peers. Sharing information between users required reasons for them; this is the social nature of Facebook. Sharing between users only happen if they think it is valuable for them. So this is depending on how you put incentives in your campaign leads, for examples; discount coupons, free shipping, samples or trials are all examples of valuable incentives that are likely to be shared often.
RapidCloud Strategy with Objective,
Types & Locations
Effective Cover Photo Design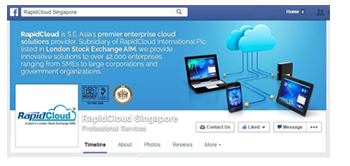 Get noticed by presenting the right context and design to make your page stand out. The cover photo will be updated based on relevant or upcoming events of your company. We will help on guiding and advising you the suitable images and design that is in-lined with brand guidelines for consistency, including featured institutions, press release, blogs, etc.
Daily Post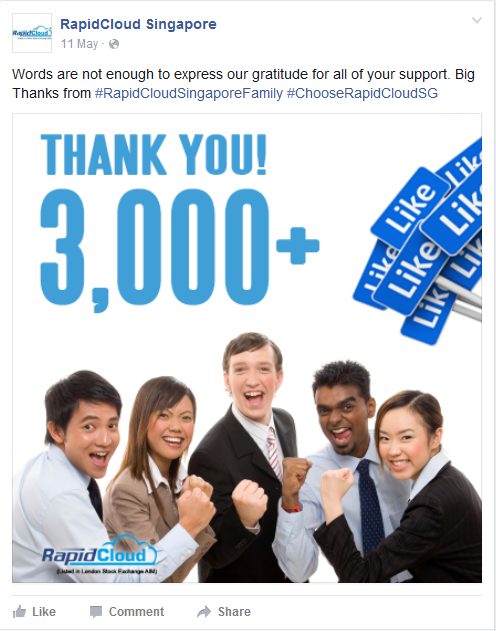 Post may include the news about your type of business, trends, pre event and post event details, achievements and awards, new product and services or anniversaries or other type of celebrations. If the user finds out some interesting post from your page, such as discount or offerings, they will surely click on it and spread the news to other users.
Facebook Sponsored Ads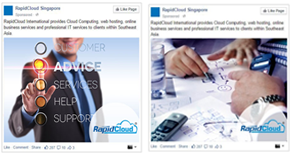 Allow businesses to create budget-friendly and customizable promotional campaigns that are targeted and specific demographic. Post a targeted ads which could target a specific factors (age,location,etc). The ad post shall be relevant to the product promotedThere will be no payment for un-clicked ads, and any ads for views or campaign.
Research

Facebook Page Optimisation

Community Management (Optional)

Monitoring

Monthly Performance